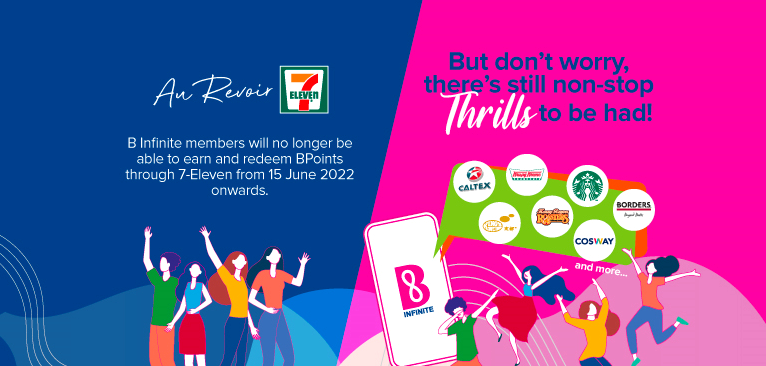 Hola peeps, we're sad to inform you that our partnership with 7-Eleven is coming to end on 15 June 2022. Thus, B Infinite members will no longer be able to earn and redeem BPoints at all 7-Eleven outlets. And while it is with a heavy heart we say goodbye, we would also like to thank them for their outstanding support throughout these years.
But don't be too sedih, kay? Coz, as you know, we've got plenty of other ohsem merchant partners that are just waiting to serve you thrills via the B Infinite App!

For those of you who have yet to add your B Infinite card to the BI App, do it today and enjoy everything that we have to offer:
• Keep track of your BPoints balance
• Grab snazzy deals and irresistible offers
• Find easy ways to earn BPoints
• Go cashless with our BI Pay e-wallet
• Shop at BI Shop using BPoints or cash
Should you require assistance with your B Infinite membership, please feel free to contact us at 03-2141 8080 or email us at
enquiry@binfinite.com.my
.