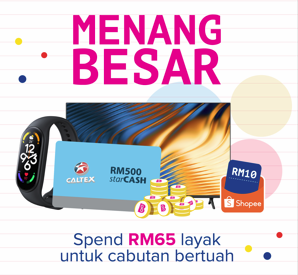 We would also like to take this opportunity to thank everyone who participated and made our campaign a huge success.
Grand prize, 2nd prize and 3rd prize winners please provide personal details via email:
marketing@binfinite.com.my
or PM us on FB/IG, this is for verification and prize delivery purpose.
- Full Name
- NRIC (last 4 digit)
- Mobile number
- Full BI Card number
- Delivery Address
The prize will be forfeited if we do not receive the details by 31 Oct 2022, so hurry up and contact us today.
-----------------------------
For consolation prize winners, your BPoints/voucher will be credited into your BI account within 3 - 5 working days.
-----------------------------
Here are the top winners who will be receiving prizes from us:
Grand Prize: Hisense 55" Smart TV
Muhammad Hanif Bin Hamzah | Card No: 6298xxxxxxxx4419

2nd Prize: RM500 Caltex StarCash Prepaid Card
Vinnod Raj A/L Ramalingam | Card No: 6298xxxxxxxx0941
Foo Sai Hou | Card No: 6298xxxxxxxx4543
Noraripin Bin Othman | Card No: 6298xxxxxxxx8121
3rd Prize: Xiaomi Smart Band 7
Tee Sheng Chi | Card No: 6298xxxxxxxx0423
Nur Hamimi Binti Mohd Shah Rizal | Card No: 6298xxxxxxxx8726
Ng Chun Yang | Card No: 6298xxxxxxxx8123
Amira Izzati Binti Mat Rosli | Card No: 6298xxxxxxxx5131
Shairi Kamal | Card No: 6298xxxxxxxx0572
Firdaus Bin Hassan | Card No: 6298xxxxxxxx6936

Consolation Prize: RM10 Shopee Voucher
Riza Iskandar Bin Gazali | Card No: 6298xxxxxxxx2018
Muhammad Sabri Akmal Bin Safiee | Card No: 6298xxxxxxxx4496
Ooi Soon Yi | Card No: 6298xxxxxxxx1030
Lee Chin Seng | Card No: 6298xxxxxxxx5115
Card No: 6298xxxxxxxx3188
Steven Chin Kai Keong | Card No: 6298xxxxxxxx1548
Lee Yin Bin | Card No: 6298xxxxxxxx2712
Chong Guat Nee | Card No: 6298xxxxxxxx2397
Tan Yan Chin | Card No: 6298xxxxxxxx6407
Ng Heng Cheeang | Card No: 6298xxxxxxxx4490
Muslihah Binti Mohd Daud | Card No: 6298xxxxxxxx9164
Tiau Keng Seng | Card No: 6298xxxxxxxx1327
Kenyon Teoh | Card No: 6298xxxxxxxx9316
Lim Siew Kiang | Card No: 6298xxxxxxxx6366
Chua Poh Lee | Card No: 6298xxxxxxxx8086
Card No: 6298xxxxxxxx7705
Kim Ning Yong | Card No: 6298xxxxxxxx9503
Khor Hwey Cuan | Card No: 6298xxxxxxxx9564
Mohd Rafais Mohd Razaif | Card No: 6298xxxxxxxx7526
Card No: 6298xxxxxxxx4316
Harry Kuek | Card No: 6298xxxxxxxx8521
Ke Teoh | Card No: 6298xxxxxxxx4499
Mohd Khairoll Nizam | Card No: 6298xxxxxxxx4319
Tong Hai Chuan | Card No: 6298xxxxxxxx4915
Lew Zhe Yi | Card No: 6298xxxxxxxx5965
Pek Siong Yong | Card No: 6298xxxxxxxx0812
Cheok Yee Zin | Card No: 6298xxxxxxxx6948
Ahmad Amin Mohamad Sulaiman | Card No: 6298xxxxxxxx8831
Vickneswaran | Card No: 6298xxxxxxxx1865
Chan Yew Kin | Card No: 6298xxxxxxxx3788
Elfarabi Bin Razali | Card No: 6298xxxxxxxx7658
Wong Jia Hao | Card No: 6298xxxxxxxx1605
Tan Chong Kit | Card No: 6298xxxxxxxx0817
Card No: 6298xxxxxxxx1559
Ivan Khor | Card No: 6298xxxxxxxx2227
Lim Hoay Cheun | Card No: 6298xxxxxxxx4272
Chan Jing Ting | Card No: 6298xxxxxxxx1251
Chew Teik Choo | Card No: 6298xxxxxxxx4379
Perumal Ganeson | Card No: 6298xxxxxxxx2833
Nurulkhotimah Binti Iing Sri Wahyudi | Card No: 6298xxxxxxxx7636
Hor Jou Shen | Card No: 6298xxxxxxxx1865
Karthigesu Al Nadeson | Card No: 6298xxxxxxxx4380
Intan Suhairi Binti Salleh | Card No: 6298xxxxxxxx0418
Wong Chin Leong | Card No: 6298xxxxxxxx3062
Lim Han Jung | Card No: 6298xxxxxxxx4275
Kuan Eng Leong | Card No: 6298xxxxxxxx4030
Syafiqah Su'aib | Card No: 6298xxxxxxxx6625
Ang Mei Ling | Card No: 6298xxxxxxxx7014
Hannah Ling Hui Yang | Card No: 6298xxxxxxxx5180
Card No: 6298xxxxxxxx1786
Muhammad Hakim Norman Yusof | Card No: 6298xxxxxxxx8943
Mohd Mohrim Bin Mohd Nasir | Card No: 6298xxxxxxxx8803
Aikaraj Aronratana | Card No: 6298xxxxxxxx4304
Wong Chia Bee | Card No: 6298xxxxxxxx9566
Carl Leong Wai Keong | Card No: 6298xxxxxxxx7278
Nee Zhi Wei | Card No: 6298xxxxxxxx1874
Adzleza Binti Suliman | Card No: 6298xxxxxxxx1298
Muhammad Aiman Bin Abu Baka | Card No: 6298xxxxxxxx7120
Liew Yan Yee | Card No: 6298xxxxxxxx1378
Suhaila Binti Senawi | Card No: 6298xxxxxxxx0643
Lee Han Yong | Card No: 6298xxxxxxxx7802
Nor Anis Nabila | Card No: 6298xxxxxxxx2138
Card No: 6298xxxxxxxx9315
Nur Maisarah | Card No: 6298xxxxxxxx7172
Mohd Zaki Bin Ismail | Card No: 6298xxxxxxxx4303
Elanmohen Kandasamy | Card No: 6298xxxxxxxx8766
Low Chee Sing | Card No: 6298xxxxxxxx6361
Roy Chua Ching Heng | Card No: 6298xxxxxxxx5790
Koo Shi Ting | Card No: 6298xxxxxxxx9297
Yusliana Idayu Jamaluddin | Card No: 6298xxxxxxxx1117
Ng Chee Xin | Card No: 6298xxxxxxxx3347
Nur Illani Bt Ishak | Card No: 6298xxxxxxxx0967
Abdul Hafiz Bin Abdul Halim | Card No: 6298xxxxxxxx7350
Cheah Poah Sin | Card No: 6298xxxxxxxx3720
Abdul Razak Bin Haji Abdul Latib | Card No: 6298xxxxxxxx1612
Nor Sa'adah Binti Salihin | Card No: 6298xxxxxxxx6330
Lim Boon Chin | Card No: 6298xxxxxxxx0812
Card No: 6298xxxxxxxx2618
Mohd Ariff Bin Ismail | Card No: 6298xxxxxxxx9629
Sugumaran | Card No: 6298xxxxxxxx7064
Badrul Hisham Bin Ibrahim | Card No: 6298xxxxxxxx7515
Aizat Bin Abdul Rahman | Card No: 6298xxxxxxxx9356
Mohd Hazwan Bin Mohd Zulkefle | Card No: 6298xxxxxxxx5372
Roslawati Binti Ab Aziz | Card No: 6298xxxxxxxx4848
Mohd Rizal Bin Hassan | Card No: 6298xxxxxxxx2168
Nge Choy Wah | Card No: 6298xxxxxxxx2100
Chua Jin Hong | Card No: 6298xxxxxxxx8471
Afif Izwan Ismail | Card No: 6298xxxxxxxx3505
Chea Khay Boon | Card No: 6298xxxxxxxx4944
Vijay Manikam | Card No: 6298xxxxxxxx4760
Nursamsiah Jemain | Card No: 6298xxxxxxxx1362
Tan Kah Siew | Card No: 6298xxxxxxxx3338
Muhammad Nur Azhari Bin Sahar | Card No: 6298xxxxxxxx0111
Salmah Binti Zakaria | Card No: 6298xxxxxxxx1247
Tan Siew Hoon | Card No: 6298xxxxxxxx9009
Sanarthana Radha Krishnan | Card No: 6298xxxxxxxx0283
Tan Sui Ling Edna | Card No: 6298xxxxxxxx8062
Chin Mei Chi | Card No: 6298xxxxxxxx4324
Yaw Siok Fen | Card No: 6298xxxxxxxx6141
Low Leong Jian | Card No: 6298xxxxxxxx6419

Consolation Prize: 200 BPoints
Mohamad Azri Bin Ab Wahab | Card No: 6298xxxxxxxx7093
Goh Chin Long | Card No: 6298xxxxxxxx5639
Mohd Izzat Amer | Card No: 6298xxxxxxxx9144
Mahbob Bin Danuri | Card No: 6298xxxxxxxx7661
Goh Gim Min | Card No: 6298xxxxxxxx5465
Mohd Bilal Bin Mohamad Nasir | Card No: 6298xxxxxxxx5573
Hasniza Binti Hassan | Card No: 6298xxxxxxxx5360
Zuriaty Binti Rahmat | Card No: 6298xxxxxxxx0831
Mohd Zamri Bin A. Wahab | Card No: 6298xxxxxxxx6575
Wong Fook Wah | Card No: 6298xxxxxxxx9126
Intan Marini Bt Husain | Card No: 6298xxxxxxxx1723
Norizma Binti Hamid | Card No: 6298xxxxxxxx4712
Wong Choen Kheong | Card No: 6298xxxxxxxx5721
Lie Mei Yee | Card No: 6298xxxxxxxx6698
Lim Soo Hee | Card No: 6298xxxxxxxx2166
Victoria Fong | Card No: 6298xxxxxxxx6068
Mohd Norhan Bin Dulkahar | Card No: 6298xxxxxxxx3634
Rozima Binti Abd Ahmad | Card No: 6298xxxxxxxx4978
Suhaimi Ismail | Card No: 6298xxxxxxxx0076
Norhayati Ros Bt Zainal Abidin | Card No: 6298xxxxxxxx5523
Muhaidi Bin Kassim | Card No: 6298xxxxxxxx7181
Vivian Lee Chin Mei | Card No: 6298xxxxxxxx2619
Nurul Azira Binti Abdul Khahar | Card No: 6298xxxxxxxx7985
Pekhar | Card No: 6298xxxxxxxx6926
Ahmad Fairus Bin Abu Zaik | Card No: 6298xxxxxxxx3627
Tunku Iskhandar Shah Bin Tunku Adil | Card No: 6298xxxxxxxx4618
Maliah Mat Yusoff | Card No: 6298xxxxxxxx9181
Abdul Rahim Bin Abdul Halil | Card No: 6298xxxxxxxx3076
Bakiyaletchumy A/P Karpan | Card No: 6298xxxxxxxx6797
Sharmila A/P Letchumanan | Card No: 6298xxxxxxxx5268
Ting Lee Lin | Card No: 6298xxxxxxxx6646
Bongxiangjie | Card No: 6298xxxxxxxx3284
Muhammad Helmi Bin Mohd Rawi | Card No: 6298xxxxxxxx7682
Tham Weng Thim | Card No: 6298xxxxxxxx4077
Mun Li Fong | Card No: 6298xxxxxxxx3415
Lew Yan Kang | Card No: 6298xxxxxxxx0927
Lee May Har | Card No: 6298xxxxxxxx2622
Aminudin Omar | Card No: 6298xxxxxxxx4109
Kannan Supramaniam | Card No: 6298xxxxxxxx0865
Wong Kah Leong | Card No: 6298xxxxxxxx7345
Yow Yong Kwang | Card No: 6298xxxxxxxx9383
Wan Suhana Binti Wan Salleh | Card No: 6298xxxxxxxx1265
Goh Kean Chung | Card No: 6298xxxxxxxx5916
Lai Wai Kuan | Card No: 6298xxxxxxxx7054
Hasanah Hasano | Card No: 6298xxxxxxxx9275
Lee Chun Cheong | Card No: 6298xxxxxxxx3010
Muhamad Firdaus Bin Makhdar | Card No: 6298xxxxxxxx8720
Chong Zien Ween | Card No: 6298xxxxxxxx1605
R. Kesavan Ramasamy | Card No: 6298xxxxxxxx2432
Lee Lai Charn | Card No: 6298xxxxxxxx7996
Shahrul Nazrin | Card No: 6298xxxxxxxx7318
Lee Kok Chean | Card No: 6298xxxxxxxx7477
Peng Pea Boon | Card No: 6298xxxxxxxx2297
Muzzaleena Bt Musa | Card No: 6298xxxxxxxx7751
Helena Ng Shong Wen | Card No: 6298xxxxxxxx2187
Mohd Jamsari Bin Abdullah | Card No: 6298xxxxxxxx0297
Nurlyana Binti Abdul Rahim | Card No: 6298xxxxxxxx9681
Chong Chun Kong | Card No: 6298xxxxxxxx6872
Tanjiawei | Card No: 6298xxxxxxxx1988
Teoh Miao Xin | Card No: 6298xxxxxxxx3791
Ong Siew Mei | Card No: 6298xxxxxxxx4923
Wan Muhammad Bukhari Bin Wan Md Zulkifly | Card No: 6298xxxxxxxx5258
Alberth Elvis A/L Windson Fracis | Card No: 6298xxxxxxxx1864
Muhamad Hijan Bin Mamat | Card No: 6298xxxxxxxx6899
Ngo William | Card No: 6298xxxxxxxx9799
Khoo Pon Ean | Card No: 6298xxxxxxxx4308
Mohd Hafiz Bin Abd Talib | Card No: 6298xxxxxxxx7820
Md Sukri Bin Md Hashim | Card No: 6298xxxxxxxx5778
Azamri B Sofah | Card No: 6298xxxxxxxx3738
Hon Shang Yang | Card No: 6298xxxxxxxx9299
Theneswar Mani | Card No: 6298xxxxxxxx9090
Lim Chi Haur | Card No: 6298xxxxxxxx2334
Tan Song Chuah | Card No: 6298xxxxxxxx0853
Aznizar Bin Ahmad | Card No: 6298xxxxxxxx5143
Lee Tian Lai | Card No: 6298xxxxxxxx3895
Budi Satria | Card No: 6298xxxxxxxx2551
Kwok Yu Ting | Card No: 6298xxxxxxxx2073
Asrar | Card No: 6298xxxxxxxx8612
Pun Poo @Pun Sam | Card No: 6298xxxxxxxx9862
Muzakir Sukaimi | Card No: 6298xxxxxxxx5908
Ros Syariza Binti Ruslan | Card No: 6298xxxxxxxx0324
Mohamad Imran Bin Hod | Card No: 6298xxxxxxxx0689
Limweishien | Card No: 6298xxxxxxxx0670
Mohd Shukri Bin Zakaria | Card No: 6298xxxxxxxx0061
Loo Yin Kwan | Card No: 6298xxxxxxxx6860
Lim Ai Ting | Card No: 6298xxxxxxxx9371
Zainal | Card No: 6298xxxxxxxx3133
Liew Ah Kiew | Card No: 6298xxxxxxxx5653
Vinoth Ravishangkar | Card No: 6298xxxxxxxx7887
Zainal Fazriz Zainul | Card No: 6298xxxxxxxx7333
Sky Koh Lean Kiang | Card No: 6298xxxxxxxx3333
Muhammad Lutfi | Card No: 6298xxxxxxxx6736
Looi Wai Yee | Card No: 6298xxxxxxxx8456
Thomasina Chandroo | Card No: 6298xxxxxxxx1208
Raveverma Periyasamy | Card No: 6298xxxxxxxx1881
Ng Chong Siang | Card No: 6298xxxxxxxx6605
Liaw Yok Eng | Card No: 6298xxxxxxxx1250
Tan Kar Mee | Card No: 6298xxxxxxxx8477
Norhaizat Bin Mohd Jamil | Card No: 6298xxxxxxxx0756
Lim Liang Shun | Card No: 6298xxxxxxxx5539
Subramaniam A/L Danapal | Card No: 6298xxxxxxxx7852
Lim Chik Feng | Card No: 6298xxxxxxxx1052
Fakrul Razi | Card No: 6298xxxxxxxx6958
Tan Chye Guan | Card No: 6298xxxxxxxx5345
Chee Teng Yoon | Card No: 6298xxxxxxxx2690
Nur Ameera Ateqah Binti Norshahrir | Card No: 6298xxxxxxxx4768
Mohd Yusnizam Bin Yusof | Card No: 6298xxxxxxxx8747
Ong Chun Hsien | Card No: 6298xxxxxxxx4183
Looi Weng Leong | Card No: 6298xxxxxxxx4193
Hazrul Izzat Bin Hamdan | Card No: 6298xxxxxxxx4263
Tan Aik Hua | Card No: 6298xxxxxxxx4615
Amira Binti Askat | Card No: 6298xxxxxxxx6560
Juliana Binti Ibrahim | Card No: 6298xxxxxxxx4541
Yeap Tsui Ling | Card No: 6298xxxxxxxx5823
Lee Jia Mei | Card No: 6298xxxxxxxx2101
Ainoor Jamahanim Binti Jantan | Card No: 6298xxxxxxxx8024
Choo Tet Meng | Card No: 6298xxxxxxxx7537
Lukman Shazwan Bin Che Hassan | Card No: 6298xxxxxxxx4897
Pun Man Yau | Card No: 6298xxxxxxxx2040
Koklin Kuang | Card No: 6298xxxxxxxx9534
Nurul Najihah Binti Saidin | Card No: 6298xxxxxxxx8874
Heng Wei Lee | Card No: 6298xxxxxxxx2101
Chung Wai Kang @ Kenneth | Card No: 6298xxxxxxxx9594
Lim Choan Shang | Card No: 6298xxxxxxxx5158
Chua Siew Chuen | Card No: 6298xxxxxxxx9065
Wang Yueh Yeong | Card No: 6298xxxxxxxx6141
Hassan Ali Abu Samah | Card No: 6298xxxxxxxx0329
Mohd Kamal Bin Md Zin | Card No: 6298xxxxxxxx5257
Daniel Quah Hong Ern | Card No: 6298xxxxxxxx6487
Mohd Hariri Bin Abd Ghani | Card No: 6298xxxxxxxx5989
Ong Boon Chyi | Card No: 6298xxxxxxxx6949
Norazan Binti Mohd Nor | Card No: 6298xxxxxxxx1384
Siew Ying Yan | Card No: 6298xxxxxxxx7128
Kee Seng Yong | Card No: 6298xxxxxxxx1315
Saw Ee Ding | Card No: 6298xxxxxxxx2794
Reduan Bin Rozali | Card No: 6298xxxxxxxx0134
Ooi Say Chye | Card No: 6298xxxxxxxx3555
Yong Moy Lan | Card No: 6298xxxxxxxx0441
Pei Yee Chan | Card No: 6298xxxxxxxx4673
Christopher Wong Chee Peng | Card No: 6298xxxxxxxx1680
Mohd Khairul Bin Ibrahim | Card No: 6298xxxxxxxx1458
Ravi Kumar Subramaniam | Card No: 6298xxxxxxxx5714
Chow Sy Wei | Card No: 6298xxxxxxxx2924
Nur Musfirah Binti Musa | Card No: 6298xxxxxxxx0738
Jo An | Card No: 6298xxxxxxxx0427
Cheah Seng Kooi | Card No: 6298xxxxxxxx7839
Chong Wee Keong | Card No: 6298xxxxxxxx1088
Rafidah Binti Shukor | Card No: 6298xxxxxxxx8947
Tan Chee Kin | Card No: 6298xxxxxxxx8665
Low How Ming | Card No: 6298xxxxxxxx0931
Chong Choon Huat | Card No: 6298xxxxxxxx1890
Liew Sin Shyan | Card No: 6298xxxxxxxx7738
Lai Sook Yean | Card No: 6298xxxxxxxx3447
Por Siew Eng | Card No: 6298xxxxxxxx8322
Chua Way Leng | Card No: 6298xxxxxxxx2693
Tan Hui Yin | Card No: 6298xxxxxxxx6812
Chia Swee Keat | Card No: 6298xxxxxxxx7423
Wesley Walter Anak Peter George | Card No: 6298xxxxxxxx4195
Fong Wei Si | Card No: 6298xxxxxxxx2627
Ng Kok Leong | Card No: 6298xxxxxxxx9613
Farah Hana Binti Mohamad Adenan | Card No: 6298xxxxxxxx9151
Krishnavani A/P Ramakrishnan | Card No: 6298xxxxxxxx8726
Tan Poh Kim | Card No: 6298xxxxxxxx4482
Selina Low | Card No: 6298xxxxxxxx5554
Ng Yean Hooi | Card No: 6298xxxxxxxx0013
Tu Wei Shoong | Card No: 6298xxxxxxxx7230
Muhammad Bin Che Ismail | Card No: 6298xxxxxxxx1799
Fahrul Amri Izwan Bin Omar | Card No: 6298xxxxxxxx4771
Anuar B Hasan | Card No: 6298xxxxxxxx4848
Mohd Hakimi Bin Mohd Kuzi | Card No: 6298xxxxxxxx1105
Shum Moke Seng | Card No: 6298xxxxxxxx2298
Iskandar Mohd Nor | Card No: 6298xxxxxxxx6933
Leong Wee Hoong | Card No: 6298xxxxxxxx8685
Tye Yew Liang | Card No: 6298xxxxxxxx8280
Mumahad Khairulrizuan Bin Misbah | Card No: 6298xxxxxxxx8924
Baldwin Chua Teck Chyuan | Card No: 6298xxxxxxxx2237
Kha Chim Chai | Card No: 6298xxxxxxxx6356
Bcard Mohdnasirmail@gmail.Com | Card No: 6298xxxxxxxx3483
Shahrin Abdullah | Card No: 6298xxxxxxxx7671
Mohd Shahrul Azrin Bin Shahrial | Card No: 6298xxxxxxxx7856
Norariff Elias | Card No: 6298xxxxxxxx0301
Mohamad Nazrizan | Card No: 6298xxxxxxxx6284
Noraini Binti Sapiai | Card No: 6298xxxxxxxx7602
Surjaya A/P Purushodman | Card No: 6298xxxxxxxx9829
Menaka A/P Perumal | Card No: 6298xxxxxxxx9817
Kholillah Rafie | Card No: 6298xxxxxxxx6807
Lo Pong Jack | Card No: 6298xxxxxxxx7415
Abdullah Bin Ismail | Card No: 6298xxxxxxxx0071
Kelana Bin Maharop | Card No: 6298xxxxxxxx5873
Yoong Yinyin | Card No: 6298xxxxxxxx6513
Nordin Abdon | Card No: 6298xxxxxxxx5111
Chan Zhi Wei | Card No: 6298xxxxxxxx7298
Ee Chin Poh | Card No: 6298xxxxxxxx0680
Tharmaraj A/L Ahnantha Rajah | Card No: 6298xxxxxxxx3687
Chin Han Quek | Card No: 6298xxxxxxxx1701
Junaidy Talib | Card No: 6298xxxxxxxx9382
Subramaniam A/L Samykannu | Card No: 6298xxxxxxxx0312
Liew Ying Yoong | Card No: 6298xxxxxxxx2830
Tan Kim Hay | Card No: 6298xxxxxxxx9139
Lee Wil Lix | Card No: 6298xxxxxxxx6849
Mohamad Asri Bin Osman | Card No: 6298xxxxxxxx7389
Chain Chee Siang | Card No: 6298xxxxxxxx7360
Ng Shi Hui | Card No: 6298xxxxxxxx5134
Mohd Syafiq Bin Ab Latib | Card No: 6298xxxxxxxx5260
Bcard Pavilion@gmail.Com | Card No: 6298xxxxxxxx3420
Dhia Mohd | Card No: 6298xxxxxxxx8815
Norma Bt Talib | Card No: 6298xxxxxxxx6219
Loh Cs | Card No: 6298xxxxxxxx0475
Ahmad Fawwaz Othman | Card No: 6298xxxxxxxx5319
Woo Zhan Cheng | Card No: 6298xxxxxxxx2316
Law Hui Thean | Card No: 6298xxxxxxxx8150
Ooi Wei Xuan | Card No: 6298xxxxxxxx5588
Quah Chean Chok | Card No: 6298xxxxxxxx4337
Siti Najidah Binti Zulkurnial | Card No: 6298xxxxxxxx5643
Lye Chee Lin | Card No: 6298xxxxxxxx6248
Teng Fong Yi | Card No: 6298xxxxxxxx2265
Kok Chuan | Card No: 6298xxxxxxxx8361
Mohd Nasir Bin Ali | Card No: 6298xxxxxxxx0143
Chong Wai Jun | Card No: 6298xxxxxxxx5046
Shahrul Kzman | Card No: 6298xxxxxxxx8732
Ong Kah Chun | Card No: 6298xxxxxxxx3417
Wong Yek Kim | Card No: 6298xxxxxxxx5223
Cheong Peng Tan | Card No: 6298xxxxxxxx5232
Ho Chow Tai | Card No: 6298xxxxxxxx8804
Koh Min Hwa | Card No: 6298xxxxxxxx9848
Lee Xue Huei | Card No: 6298xxxxxxxx6599
Goi Seong Keng | Card No: 6298xxxxxxxx1147
Dzulkhairi Mohamed Zom | Card No: 6298xxxxxxxx0010
Wong Kok Hong | Card No: 6298xxxxxxxx6119
Chiew Kim Suan | Card No: 6298xxxxxxxx4261
Azhar Bin Shafie | Card No: 6298xxxxxxxx2237
Low Xong Theng | Card No: 6298xxxxxxxx7202
Che Sook Yee | Card No: 6298xxxxxxxx4571
Teoh Keng Choon | Card No: 6298xxxxxxxx8056
Chew Eng Hooi | Card No: 6298xxxxxxxx3033
Yogeswari A/P Nagappan | Card No: 6298xxxxxxxx1699
Hairul Hazil Bin Mokhtar | Card No: 6298xxxxxxxx4645
Murugappan A/L Kandasamy | Card No: 6298xxxxxxxx4883
Tan Yan Han | Card No: 6298xxxxxxxx6387
Poey Eugene | Card No: 6298xxxxxxxx0466



Consolation Prize: 100 BPoints
Muhammad Nazrie | Card No: 6298xxxxxxxx7378
Syairani Edlyana | Card No: 6298xxxxxxxx4750
Muhammad Husaini Bin Azman | Card No: 6298xxxxxxxx3139
Segar A/L Kuttapu | Card No: 6298xxxxxxxx2267
Tee Yew @ Yee Yew | Card No: 6298xxxxxxxx8054
Lee Shu Mei | Card No: 6298xxxxxxxx1166
Muhammad Sabqi Bin Abdullah | Card No: 6298xxxxxxxx2811
Mohd Azlan Bin Mamat | Card No: 6298xxxxxxxx7030
Goh Sock Sang | Card No: 6298xxxxxxxx6433
M.Thanaletchumy A/P Munusamy | Card No: 6298xxxxxxxx0571
Huey Chyi Tan | Card No: 6298xxxxxxxx0100
Sharifah Norfaiszatul Ain Bt Syed Ibrahim | Card No: 6298xxxxxxxx8780
Roshidah Binti Ismail | Card No: 6298xxxxxxxx8197
Yap Cheong | Card No: 6298xxxxxxxx1339
Siti Rohani Binti Mohamed Zakaria | Card No: 6298xxxxxxxx9974
Chong Wai Haur | Card No: 6298xxxxxxxx0486
Yeoh Geok Ching | Card No: 6298xxxxxxxx8008
Norazreen Binti Roslee | Card No: 6298xxxxxxxx8199
Seah Kheng Sheng | Card No: 6298xxxxxxxx7940
Nor Azaman | Card No: 6298xxxxxxxx8223
Chan Kah Yee | Card No: 6298xxxxxxxx4774
Pavinder Kaur Girn A/P Baldev Singh | Card No: 6298xxxxxxxx8352
Mohd Zaid | Card No: 6298xxxxxxxx2873
Tneh Chang Weng | Card No: 6298xxxxxxxx0409
Mohd Sakhaf Bin Saad | Card No: 6298xxxxxxxx9006
Noor Azhar Mohamad | Card No: 6298xxxxxxxx0605
Abdul Hadi Bin Ismail | Card No: 6298xxxxxxxx2573
Suryani Bte Miswan | Card No: 6298xxxxxxxx2205
Tan Kheh Shih | Card No: 6298xxxxxxxx8921
My Rusli Bin Ismail | Card No: 6298xxxxxxxx9502
Norhayati Mohd Nor | Card No: 6298xxxxxxxx4317
Bong Zi Jun | Card No: 6298xxxxxxxx9710
Abdul Talib Abass | Card No: 6298xxxxxxxx1920
Sarawanan A/L Murugan | Card No: 6298xxxxxxxx5765
Tan Chwee Ching | Card No: 6298xxxxxxxx7814
Yap Soon Boon | Card No: 6298xxxxxxxx0174
Khai Lik Ho | Card No: 6298xxxxxxxx9145
Ong Kang Shyong | Card No: 6298xxxxxxxx3571
Chong Kean Wai | Card No: 6298xxxxxxxx1804
Chong Kah Leng | Card No: 6298xxxxxxxx2825
Zairushallehin Bin Abdul Rashid | Card No: 6298xxxxxxxx2776
Mohd Hafiz Azhar | Card No: 6298xxxxxxxx7988
Lai Bee See | Card No: 6298xxxxxxxx2188
Wong Chew Yee | Card No: 6298xxxxxxxx8452
Lai Cheng Yew | Card No: 6298xxxxxxxx2193
Yeoh Siak Kok | Card No: 6298xxxxxxxx8027
Wan Emylina Binti Abdullah | Card No: 6298xxxxxxxx5679
Megat Shahrizan | Card No: 6298xxxxxxxx2199
Elaine Tow | Card No: 6298xxxxxxxx9319
Mohd Asrul Nizam Bin Salim Zam | Card No: 6298xxxxxxxx0986
Loh Choon Keat | Card No: 6298xxxxxxxx5143
M Bakri Badrul | Card No: 6298xxxxxxxx0327
Migeul Lim | Card No: 6298xxxxxxxx9948
Chang Wei Quan | Card No: 6298xxxxxxxx1975
Ibrahim Bin Hanapi | Card No: 6298xxxxxxxx9642
Lau Capoi Fang | Card No: 6298xxxxxxxx5121
Mohd Ghani Bin Ismail | Card No: 6298xxxxxxxx3559
Nurul Habibah Binti Abdul Halim | Card No: 6298xxxxxxxx3326
Teh Hooi Li | Card No: 6298xxxxxxxx6857
Norhamidon Che Din | Card No: 6298xxxxxxxx2806
Noor Farhanee | Card No: 6298xxxxxxxx6172
Shaanmathi A/P Ravichandran | Card No: 6298xxxxxxxx9727
Kho Wooi Guan | Card No: 6298xxxxxxxx0345
Lim Choo Jiun | Card No: 6298xxxxxxxx5247
Aik Chew Tan | Card No: 6298xxxxxxxx7840
Jegan Murugan | Card No: 6298xxxxxxxx1524
Mohd Saifuzzaman Bin Hoesni | Card No: 6298xxxxxxxx5207
Eric Cheng | Card No: 6298xxxxxxxx1587
W Shapie Bin W Mamat | Card No: 6298xxxxxxxx8532
Jasni Bin Ismail | Card No: 6298xxxxxxxx0820
Mrken | Card No: 6298xxxxxxxx4243
Zamri Bin Kamis | Card No: 6298xxxxxxxx8162
Mulyadi Hasan | Card No: 6298xxxxxxxx7055
Ainul Murfiqah Mohd Yusoff | Card No: 6298xxxxxxxx4892
Nurhalida Binti Hanapi | Card No: 6298xxxxxxxx1898
Nurul Fatin Binti Zairi | Card No: 6298xxxxxxxx9993
Suriani Binti Harun | Card No: 6298xxxxxxxx9993
Mohd Asyraf Abd Latif | Card No: 6298xxxxxxxx4063
Shane Sin | Card No: 6298xxxxxxxx0244
Chan Yiik Weng | Card No: 6298xxxxxxxx5053
Lee Kean Jin | Card No: 6298xxxxxxxx7936
Abdul Hafiz Al-khairi Saidi | Card No: 6298xxxxxxxx8903
Mohd Suzaimi Bin Mohd Idris | Card No: 6298xxxxxxxx6993
Norlizan Binti Jusoh | Card No: 6298xxxxxxxx3409
Samsiah Daud | Card No: 6298xxxxxxxx5731
Azizi Bin Omar | Card No: 6298xxxxxxxx2576
Syazni Binti Rohim | Card No: 6298xxxxxxxx3427
Mohd Syaifuddin Bin Mohd Zamri | Card No: 6298xxxxxxxx4048
Mazlan Bin Othman | Card No: 6298xxxxxxxx9979
Nur Nabila Shuhada Binti Johari | Card No: 6298xxxxxxxx5754
Rosly Bin Abd Rahim | Card No: 6298xxxxxxxx1242
Wan Beng Ping | Card No: 6298xxxxxxxx8348
Anjaladevi A/P Kalimuthoo | Card No: 6298xxxxxxxx8095
Mohd Harif Iqram Hamzah | Card No: 6298xxxxxxxx3081
Lim Boon Sin | Card No: 6298xxxxxxxx8177
Alexander Tan Wai Teng | Card No: 6298xxxxxxxx9658
Mohd Zaiha Hashim | Card No: 6298xxxxxxxx8049
Lee Boon Hock | Card No: 6298xxxxxxxx3328
Tong Kien Teck | Card No: 6298xxxxxxxx8593
Yosryhan Bin Zaidon | Card No: 6298xxxxxxxx8554
Karunamoorthy A/L Letchmunan | Card No: 6298xxxxxxxx2806
Meor Shahril Azhar Bin Mohamad Amin | Card No: 6298xxxxxxxx4879
Eng Khin Hock | Card No: 6298xxxxxxxx9313
Muhammad Khairul Bin Ramli | Card No: 6298xxxxxxxx0349
Choon Ho Cheong | Card No: 6298xxxxxxxx2252
Aug Eng Liang | Card No: 6298xxxxxxxx5389
Anandaraj Muniandy | Card No: 6298xxxxxxxx5505
Sarah Mohamad | Card No: 6298xxxxxxxx8235
Nurezzati Binti Zaini | Card No: 6298xxxxxxxx7746
Amir Bin Matratin | Card No: 6298xxxxxxxx0535
Izzaty Aimi | Card No: 6298xxxxxxxx7366
Hazlina Omar | Card No: 6298xxxxxxxx8604
Ching Yau Sheng | Card No: 6298xxxxxxxx4006
Muhammad Zaqwan Bin Mohd Arif | Card No: 6298xxxxxxxx5598
Nadiah Maulad Md Yusof | Card No: 6298xxxxxxxx9656
Fadillah Binti Abdullah | Card No: 6298xxxxxxxx5331
Che Azni Azira Binti Che Omar | Card No: 6298xxxxxxxx4666
Pau Min Wan | Card No: 6298xxxxxxxx7425
Syuhairah Zakaria | Card No: 6298xxxxxxxx8039
Nor Hidayah Binti Abu Bakar | Card No: 6298xxxxxxxx7075
Chea Fong Lim | Card No: 6298xxxxxxxx8942
Ng Lee Keong | Card No: 6298xxxxxxxx5964
Ramli Bin Abdullah | Card No: 6298xxxxxxxx9662
Zuhana Binti Ahmad Zubir | Card No: 6298xxxxxxxx4175
Muthalagan W/O Subramanian | Card No: 6298xxxxxxxx5979
Tan Lee Khean | Card No: 6298xxxxxxxx2703
Kamarulnizam Bin Kamarud-din | Card No: 6298xxxxxxxx5739
Vimmala A/P Nagalingam | Card No: 6298xxxxxxxx0546
Heng Sze Phing | Card No: 6298xxxxxxxx1135
Luai Mei Lin | Card No: 6298xxxxxxxx8693
Yahya Bin Mohamad Kassim Lee | Card No: 6298xxxxxxxx4469
Chow Thai Yong | Card No: 6298xxxxxxxx5590
Kuan Siew Hai | Card No: 6298xxxxxxxx4478
Norfarhana Binti Hamzah | Card No: 6298xxxxxxxx7597
Lim Tang Cheng | Card No: 6298xxxxxxxx7851
Ngo Yee Pin | Card No: 6298xxxxxxxx8816
Hamsan Abdullah | Card No: 6298xxxxxxxx9861
Lee Chian Jau | Card No: 6298xxxxxxxx8444
Foo Yau Geem | Card No: 6298xxxxxxxx6594
Faizal Zainal | Card No: 6298xxxxxxxx0663
Devi Letchmanan | Card No: 6298xxxxxxxx3747
Mohd Asri Bin Ahmad | Card No: 6298xxxxxxxx1788
Lim Lee Kiang | Card No: 6298xxxxxxxx6232
Lily Yee | Card No: 6298xxxxxxxx4736
Joe Leong | Card No: 6298xxxxxxxx4214
Muammar Bin Mokhtar | Card No: 6298xxxxxxxx5558
Chua Kah Ling | Card No: 6298xxxxxxxx5663
Foo Teok Woon | Card No: 6298xxxxxxxx4781
Yazmeen Binti Wahid | Card No: 6298xxxxxxxx3525
Yap Jing Yi | Card No: 6298xxxxxxxx9492
Jokopittono Bin Sandari | Card No: 6298xxxxxxxx1887
Azli Bin Alias | Card No: 6298xxxxxxxx7746
Siti Fatimah | Card No: 6298xxxxxxxx0727
Nabsiah Binti Mustaffa | Card No: 6298xxxxxxxx0466
Nurul Atikah Bt Muhammad Hammal | Card No: 6298xxxxxxxx1956
Saw Hun Boon | Card No: 6298xxxxxxxx0050
Lim Kian Yau | Card No: 6298xxxxxxxx3669
Chan Yuan Yi | Card No: 6298xxxxxxxx5154
Tang Chee Keen | Card No: 6298xxxxxxxx1436
Lim Chee Wee | Card No: 6298xxxxxxxx1084
Meenachi A/P Suppiah @ Nadarajan | Card No: 6298xxxxxxxx3064
Wong Tian Kok | Card No: 6298xxxxxxxx8590
Wong Yaw Sheng | Card No: 6298xxxxxxxx9828
Vignesh Nair | Card No: 6298xxxxxxxx3442
Mah Chin Huat | Card No: 6298xxxxxxxx8085
Lim Shy Pyng | Card No: 6298xxxxxxxx4250
Wong Kee Fong | Card No: 6298xxxxxxxx5815
Yer Kok Leong | Card No: 6298xxxxxxxx7525
Lim Win Yeow | Card No: 6298xxxxxxxx2695
Johari Bin Deraman | Card No: 6298xxxxxxxx4658
Kunasundari D/O Dewan | Card No: 6298xxxxxxxx8354
Tan Wooi Meng | Card No: 6298xxxxxxxx4164
Lim Kok Chai | Card No: 6298xxxxxxxx2980
Bobo Goh | Card No: 6298xxxxxxxx7078
Tan Kit Wan | Card No: 6298xxxxxxxx1224
Yee Ling | Card No: 6298xxxxxxxx7510
Khoo Hooi Chen | Card No: 6298xxxxxxxx1476
Boon Kam Min | Card No: 6298xxxxxxxx8781
Goh Ong Hee | Card No: 6298xxxxxxxx1305
Kumaran A/L Murugasan | Card No: 6298xxxxxxxx5180
Lily Ooi Chew Hoon | Card No: 6298xxxxxxxx1815
Lee Huay Ping | Card No: 6298xxxxxxxx1012
Ishak Idris | Card No: 6298xxxxxxxx1268
Othman Zailani Lageno @ Lengro | Card No: 6298xxxxxxxx2071
Yoon Teik Kwang | Card No: 6298xxxxxxxx4157
Jane Tui Set Fah | Card No: 6298xxxxxxxx7880
Rosmawati Binti Sabli | Card No: 6298xxxxxxxx6797
Ho Chai Yun | Card No: 6298xxxxxxxx4299
Lim Eng Hwa | Card No: 6298xxxxxxxx7297
Wong Yao Liang | Card No: 6298xxxxxxxx1200
Perumal A/L Muniandy | Card No: 6298xxxxxxxx5755
Lim Leong Huat | Card No: 6298xxxxxxxx5498
Nantakumaran A/L Ganeson | Card No: 6298xxxxxxxx6763
Hizral Tazzif Hisham | Card No: 6298xxxxxxxx7678
Ong Chin Hean | Card No: 6298xxxxxxxx0167
Wan Azrin Syahirah Bt Mior Zulkifli | Card No: 6298xxxxxxxx5824
Choo Kia Yik | Card No: 6298xxxxxxxx3837
Sharul Affendi Bin Zainurddin | Card No: 6298xxxxxxxx6805
Elvin Steven | Card No: 6298xxxxxxxx5746
Tee Chee Keong @ Tee Chee Teik | Card No: 6298xxxxxxxx8532
Ker Bee Hoong | Card No: 6298xxxxxxxx4294
Kumanan A/L Arunachlam | Card No: 6298xxxxxxxx4067
Elaine Saw Chi Ying | Card No: 6298xxxxxxxx0990
Loo Sze Ying | Card No: 6298xxxxxxxx0638
Ng Chee Shyan | Card No: 6298xxxxxxxx6780
Ng Cheng Teik | Card No: 6298xxxxxxxx1970
Loh Kah Yuen | Card No: 6298xxxxxxxx3036
Lee Mun Yee | Card No: 6298xxxxxxxx9078
Lau Chin Pang | Card No: 6298xxxxxxxx1811
Cheong Oi Mun | Card No: 6298xxxxxxxx1851
Muhammad Zunnurain Bin Hassni | Card No: 6298xxxxxxxx8243
Noorzaimi Bin Zainol Abidin | Card No: 6298xxxxxxxx2186
Shathyarubaan Selvadurai | Card No: 6298xxxxxxxx5103
Irwan Fadzil Bin Izuddin | Card No: 6298xxxxxxxx1375
Md Yusoff Deraman | Card No: 6298xxxxxxxx3032
Uop Logistic Sdn Bhd | Card No: 6298xxxxxxxx7370
Ganesan A/L Patchia | Card No: 6298xxxxxxxx4615
Mohd Faizal Bin Abdullah | Card No: 6298xxxxxxxx9736
Siew Eng Tan | Card No: 6298xxxxxxxx6533
Muhammad Dezmi Adam Bin Ahmad Daud | Card No: 6298xxxxxxxx5077
Zenith Prosperity (M) Sdn Bhd | Card No: 6298xxxxxxxx0675
Ng Yunxu | Card No: 6298xxxxxxxx3965
Nadiaayu Hasan | Card No: 6298xxxxxxxx5412
Hew Seli | Card No: 6298xxxxxxxx2791
Muhammad Azreen Bin Hussein | Card No: 6298xxxxxxxx2068
Siti Hajar Binti Pakharudin | Card No: 6298xxxxxxxx3379
Tay Size Sze | Card No: 6298xxxxxxxx6558
Kumarasan | Card No: 6298xxxxxxxx5292
Khairuddin Berahim | Card No: 6298xxxxxxxx7432
Muhammad Aizat Mustaqim | Card No: 6298xxxxxxxx1447
Wong Yoke Ming | Card No: 6298xxxxxxxx8256
Seah Daryl | Card No: 6298xxxxxxxx9601
Wong Chui Fung | Card No: 6298xxxxxxxx0367
Nik Khairul Adli Bin Nik Him | Card No: 6298xxxxxxxx6125
Jacky Bin Rangi | Card No: 6298xxxxxxxx6554
Wan Dini Ikmal Bin Wan Md Yusnazurin | Card No: 6298xxxxxxxx6868
Nor Farah Amalin Binti Mohd Fauzi | Card No: 6298xxxxxxxx0982
Lee Cai Xuan | Card No: 6298xxxxxxxx1375
Lem Lay Tin | Card No: 6298xxxxxxxx7189
Mohd Abdul Rahman Bin Yusoff | Card No: 6298xxxxxxxx0978
Ivan Bong | Card No: 6298xxxxxxxx8427
Liew Mei See | Card No: 6298xxxxxxxx5985
Amiruddin Bin Azmi | Card No: 6298xxxxxxxx0150
Mohd Asrul Asyik Md Arof | Card No: 6298xxxxxxxx2829
Lye Lin | Card No: 6298xxxxxxxx7658
Anna Haryati Binti Ghazali | Card No: 6298xxxxxxxx8660
Nikamirah | Card No: 6298xxxxxxxx1584
Goh Wei Xun | Card No: 6298xxxxxxxx3662
Mastura Mastura Rozali | Card No: 6298xxxxxxxx0240
Mohd Asri Bin Pahorudin | Card No: 6298xxxxxxxx8495
Palani A/L Pariasamy | Card No: 6298xxxxxxxx8185
Afizul B Ali | Card No: 6298xxxxxxxx2048
Leng Peng Peng | Card No: 6298xxxxxxxx1093
Santhakumar Subramaniam | Card No: 6298xxxxxxxx6452
Ritadevi A/P Nagoo | Card No: 6298xxxxxxxx9166
Lam Kok Wah | Card No: 6298xxxxxxxx8498
Nadia Bt Jaafar | Card No: 6298xxxxxxxx8572
Lean Shuh Hoong | Card No: 6298xxxxxxxx8271
Mohamad Fauzi B Hamat @ Ahmad | Card No: 6298xxxxxxxx7513
Phang Choon Beng | Card No: 6298xxxxxxxx8043
Muhamad Norillyas Bin Hussin | Card No: 6298xxxxxxxx4294
Kesavan A/L Elancoven | Card No: 6298xxxxxxxx5105
Nur Amira Azwani Binti Misli | Card No: 6298xxxxxxxx0898
Nurul Nadia Binti Mohamad | Card No: 6298xxxxxxxx7453
Yahaya Mohamed | Card No: 6298xxxxxxxx0171
Rohana Hussein | Card No: 6298xxxxxxxx7882
Lee Zie Tam | Card No: 6298xxxxxxxx5435
Norbayati Karim | Card No: 6298xxxxxxxx7328
Wong Lam Sheng | Card No: 6298xxxxxxxx9334
Roslan Bin Abdul Ghani | Card No: 6298xxxxxxxx5216
Zhong Zheng Tan | Card No: 6298xxxxxxxx0858
Mah Chee Ming | Card No: 6298xxxxxxxx7045
Pui Pui | Card No: 6298xxxxxxxx7484
Sarvin Suresh | Card No: 6298xxxxxxxx6061
Marahaini Binti Mesmun | Card No: 6298xxxxxxxx9529
Chow Yuke Fong | Card No: 6298xxxxxxxx1817
Mohd Ridzuan Bin Mohd Zain | Card No: 6298xxxxxxxx3518
Chin Kar | Card No: 6298xxxxxxxx2977
Fieza Idris | Card No: 6298xxxxxxxx0382
Razali Muhamad | Card No: 6298xxxxxxxx4527
Abd Rashid Bin Abd Razak | Card No: 6298xxxxxxxx3890
Au Chee Meng | Card No: 6298xxxxxxxx2581
Keng Wai Lee | Card No: 6298xxxxxxxx9473
Teo Sze Chin | Card No: 6298xxxxxxxx1567
Michele Ng | Card No: 6298xxxxxxxx1289
Ong Chai May | Card No: 6298xxxxxxxx2661
Noriman Bin A Bakar | Card No: 6298xxxxxxxx6884
Chow Pooi Leng | Card No: 6298xxxxxxxx5388
Leong Ga Lun | Card No: 6298xxxxxxxx2752
Taz Yu Ren | Card No: 6298xxxxxxxx6159
Hariram A/L Balasundram | Card No: 6298xxxxxxxx3937
Raja Abd Rahim Bin Raja Muda | Card No: 6298xxxxxxxx5698
Tan Jit Keng | Card No: 6298xxxxxxxx2173
Leong Kok Wah | Card No: 6298xxxxxxxx6358
Mohd Ihsanuddin Hakimi Bin Shabudin | Card No: 6298xxxxxxxx3371
Tan Ley Tuan | Card No: 6298xxxxxxxx3074
Law Joseph | Card No: 6298xxxxxxxx7161
Meyeesan A/L Vallanganny | Card No: 6298xxxxxxxx4970
Pang Choon Mee | Card No: 6298xxxxxxxx2857
Nurul Faisal B Md Sabri | Card No: 6298xxxxxxxx6120